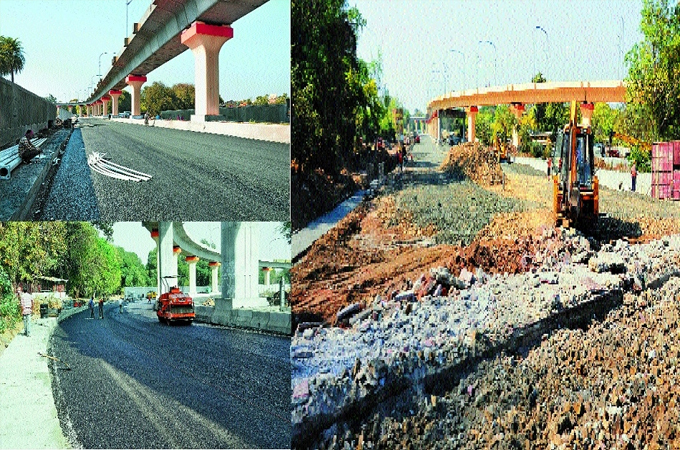 Nagpur : Improving connectivity of Ajni Railway station and major areas of South and South West Nagpur, citizens will have one more big road in their service in few weeks from now. The road inside Central Jail premises between Rahate Colony Square to Ajni Railway station is in completion stage. The road is likely to be inaugurated on February 22. This will provide a huge relief to the citizens, presently, they have to take a long round through Ajni Square or from Congress Nagar road. The metro rail is also passing through this road. Entire area is vacant and has lush green cover on both sides and this will make it a very sought after road patch by vehicle riders.
Maha Metro has constructed the new development plan road of 1 kilometer inside the jail premises. This is a 30 meter wide road having storm water drain, median and foothpath. The civic body is erecting street lights for the safety of commuters using this road. The road will have compound wall on both sides. Mahesh Kumar, Director of Maha Metro said, "We are asphalting the road from Rahate Colony to Ajni Railway Station. This will be useful for the passengers alighting or boarding train at Ajni Railway station."
It may be mentioned that as per the directions of Maharashtra Government, the Central Prison has allowed outer portion of its land for the construction of Metro Rail. Earlier, the Maha Metro had planned to lay railway track in front of Ramkrishna Math Ashram. However, after stiff opposition of the local residents and institutes, the Maha Metro changed its plan and connected Ajni Railway station with Maha Metro. This will definitely increase the commuters of the Nagpur Metro, said Mahesh Kumar.
ALSO READ : Blackbuck Poaching Case Verdict : Salman Khan convicted, gets 5 years in jail
Comments
comments