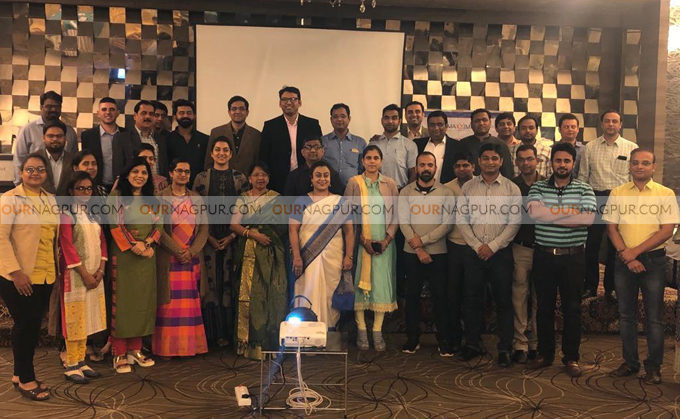 Nagpur : Dental implant care foundation (DICF) successfully launched its 1 st study club here at hotel centre point Nagpur on 3 rd February 2019 with a significant fanfare. The launch marked the commencement of DICF on the path of imparting knowledge and awareness regarding implants to fellow dentists with an objective to improve the overall dental health of the patients and upgrade the treatment quality for patients who need fixed teeth.
Dental Implant Care Foundation (DICF) 1 st study club was inaugurated by Dr Sindhu Ganvir, Dean Government Dental College, Nagpur in the presence of eminent & senior dentists of the region. According to its curriculum there will be 1 session per quarter on various dates throughout the year. Registration for this study club was absolutely free.
The event witnessed some eminent speakers taking charge of the podium. Case discussion of various treatment procedures were discussed by Dr Lokesh Daswani followed by BIOLINE Implant briefing by Mr. Joseph, CEO Bioline Implants from Israel.
Dr Deepali Patekar steered her vocals to throw some light on how to enhance the dental implant practices. Another case discussion was held by Dr Akshay Daga. The president of Dental Implant Care foundation (DICF), Dr Mohit Zamad pledged and reiterated their commitment to provide 10 free implants per year to poor patients who cannot afford the costly treatment. The management promises many more events which will keep the aspirants ahead in their genres.
Dr. Akanksha Zamad, Dr. Surbhi Pande, Mr Ankit Abad (Project Director) worked hard for the success of this study session on Implants. Senior dentists like Dr Harish Rathi, Dr Harish Laddhad, Dr Ashish Modi. Dr Omprakash Daswani, Dr Jayant Gaiki, Dr Samprati Badjate were also present to give their valuable inputs.
ALSO READ : Colgate proudly welcomes Mina Guli to India as part of her #RunningDry journey
Comments
comments