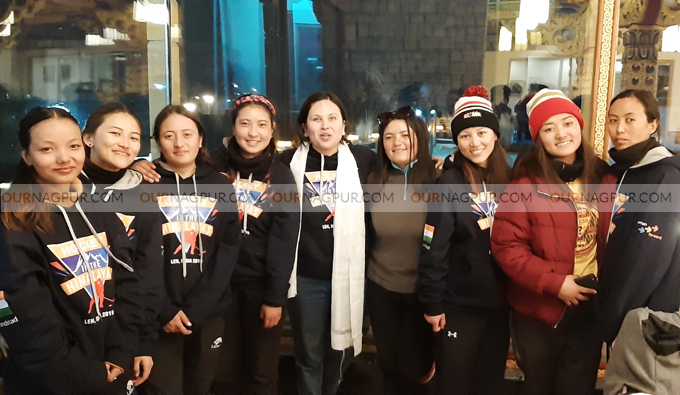 Nagpur : An avid skater, Dr. Vidya Nair (Director -Orange City Hospital & Research Institute) fulfilled her childhood aspiration of learning to skate in the past year. While work brings her to Nagpur, being a resident of Bengaluru brought her to the Skaters Club at Cubbon park. Founder Mr. Divye Karde proposed to volunteer and play for the Ice Hockey Tournament organised by Randstad India CEO Paul Dupuis, a Canadian Ice Hockey aficionado  in association with Indian Hockey association, Ladakh. Dr. Vidya grabbed the opportunity and was able to serve, provide health care and represent Orange City Hospital & Research Institute to the team which included our first ever India's Women's Ice Hockey Team, Bangalore skaters and expats from all over the world.
Dr. Vidya graduated from Johns Hopkins University in Masters in Business Administration (Health Care Management) and is currently in charge of  the Quality division, Cochlear Implant programme, financial and digital platform for the hospital. Under her leadership OCHRI acquired NABH Accreditation. The extreme January winter, high altitude and low oxygen levels all take a toll on one. It was a live example of how a sport could build communities and give hope. It brought people from all over the world together for the love of this sport. Selflessly these individuals gave their time, energy and around 800 units of Hockey equipment were donated. The most heart warming experience was the interaction with our first ever Indian Ice Hockey Women's Team that have brought laurels to our country beating all odds. Their story is compelling and inspiring. Like many sacrifices their families have made and with the support of crowd funding they made their first international debut with a win!!! Dr. Vidya also discovered that Maharashtra state has an Ice Hockey Team!!!
A disputed land for a very long time – does not deter the locals from identifying themselves as Indians which can be seen evidently by them embracing our national language. Even from the most remote places Dr. Vidya got to interact with people spoke our unifying language. The snow clad mountains, the frozen Indus, the monasteries, SECMOL, our Army camp and so much more but above all the resilient Ladakis that makes it all worth exploring the majestic Himalayas.
ALSO READ : Dental Implant Care Foundation's implant study club, Nagpur chapter gets huge response
Comments
comments