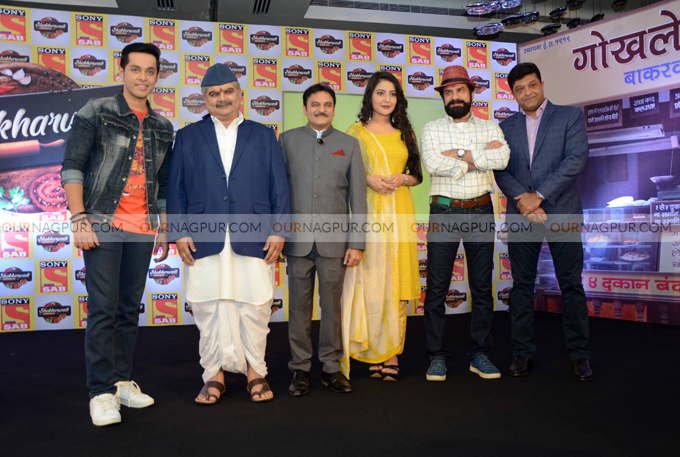 Nagpur : Furthering its commitment to happiness, Sony SAB is back with yet another unique offering in collaboration with JD Majethia and Aatish Kapadia. Set against the backdrop of Pune, Bhakharwadi is a comical take on ideological differences between a Marathi and Gujarati family competing with each other in the bhakharwadi business and more. This slice of life series will see versatile actors like Deven Bhojani and Paresh Ganatra coming back together on television after a long time.
Bhakharwadi launches on 11 th February, from Monday to Friday at 8 PM only on Sony SAB.
The cast team kick started their promotional tour in Nagpur today, enjoying the winter and the orange season, they were really excited to meet and greet with their fans in the city and witness the enthusiasm for their new show themselves.
Neeraj Vyas, Business Head, Sony SAB, said, "We are presenting a fresh version of full family entertainment with Bhakharwadi. The show features some exceptionally talented cast and I trust the production team to direct and weave the story beautifully too. Just like a bhakharwadi, this show has many wonderful layers of colour, warmth and after-taste which is a clear breakaway from most of the content that is being played these days across platforms."
Talking about this new comedy, JD Majethia, Producer, Hatsoff Productions, said, "We have had come brilliant successes in comedy on Indian television, the family audience always expects something quirky from us and we have attempted to meet their expectations. Bhakharwadi is a full family entertainment which will have emotion, humor, drama, love story and many other ingredients of wholesome entertainment. This Bhakharwadi, though a side dish in real life, will be presented as a main dish on Sony SAB and the audiences will relish it like a dessert."
Aatish Kapadia, Writer-Producer, Hatsoff Productions, adds, "This is a slice of life comic TV series called Bhakharwadi. It is like the dish bhakharwadi which has many mouth-watering ingredients. The show is set in Pune and tackles the ideological differences between a Marathi and a Gujarati family in a tongue-in-cheek manner with a love story woven around it."
Deven Bhojani, essaying the role of Anna said, "The thought of working again with JD, Aatish and Paresh is just amazing. I'm certain that audiences will love and accept this show and even relate to its characters. We are all very excited to visit Nagpur and meet all the lovely people here."
Paresh Ganatra, playing the role of Mahendra Thakkar said, "I did not want to lose this opportunity of working with such creative minds and my very good friends like Deven, Aatish and JD. Bhakharwadi is a show about two families with ideological differences and the situations that arise from it. We're super excited to visit Nagpur to promote this show."
Akshay Kelkar, playing the role of Abhishek said, "It is a privilege to be working for such a great production and Sony SAB along with such experienced artists. I'm happy to visit the beautiful city of Nagpur and enjoy the local delicacy."
Bringing in the special essence of relationships and family with tongue-in-cheek humor, Bhakharwadi will bring together some of the popular and talented actors from Gujarati and Marathi film industry.
Watch Bhakharwadi, 11 th Feb onwards, Monday to Friday at 8 PM only on Sony SAB
ALSO READ : Film Rakkhosh to be screened in Nagpur during OCIFF on Feb 10
Comments
comments