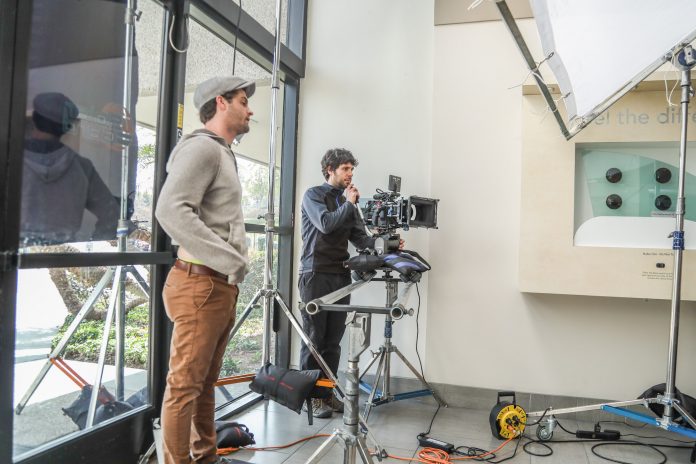 If your business hasn't gotten on board with video marketing, now is the time to start. Wyzowl reports that 63% of businesses use video marketing today, and that number is likely to continue to grow. Choosing the right video production company to help bring your brand's vision to life is so important to ensuring both your satisfaction and your success. Here are the key questions to ask before working with any video production company:
What's Your Storytelling Style?
Many video production companies have a distinct style or stick to a certain kind of storytelling format in all of their videos. It may be more distinct and obvious as you watch some of their work, but other times it can be more subtle. They may specialize in comedy, drama, current events, etc.
Think about your brand's image. Are you known for being humorous, or does your brand take a more serious tone? Do you typically take a lighthearted approach with your marketing message? You want a video marketing firm that has experience creating content in your brand's style.
Working with a company that specializes in storytelling in a way that works for your business makes it more likely that you'll have an amazing end result.
How Long Have You Been in Business?
While a newer company certainly can be worthy of your business, an established company is going to have more experience under their belt and a more robust portfolio. A video production company that's been in business for a while may be able to offer more expertise and have a better idea of what will work best for your specific needs.
Do You Specialize in Specific Industries?
Many production companies have multiple clients from particular industries. Working with a team that has that extensive experience with others in your industry can be very beneficial. Not only will they have familiarity with what works for your audience, but they'll also be able to create original content just for your brand.
What services do you offer?
Many video production companies offer a full suite of services, including script development, photography, graphic design, post-production, etc. Don't just assume that any or all of these are included. Ask for clarification to understand what exactly the company offers, and what services will best fit your project's needs.
What's a Typical Project Turnaround Time?
Ask about the average turnaround time for a project like yours. If you're working with a deadline, be upfront about it. It may not be possible for the video production company to meet a tight deadline, especially if the project is a multi-part campaign.
Ask for a rough timeline to get a better idea of how their process usually looks. How often will you receive status updates? Will the project be completed in stages? When will you have the opportunity to request changes or make revisions? These are all questions you should be asking.
What Does Your Marketing & Branding Approach Look Like?
Find out how the company approaches branding & marketing for themselves. Do they have a professional website with an identifiable logo? Are they active on social media?
A flashy marketing campaign doesn't necessarily mean better quality. However, a company that takes its brand seriously and represents themselves well is likely interested in maintaining a positive reputation by consistently delivering awesome results for clients.
Are You Genuinely Interested in This Project?
You can probably gauge the company's interest level after an initial conversation, but it doesn't hurt to simply come right out and ask. When talking about your project, do they ask questions and are they interested in the details? Do they seem to understand your vision?
If they aren't taking the time to talk through the details, answer your questions, and ask you some questions, too, they may not be the right fit. It could be that they simply aren't enthusiastic about the project. Aim to work with a producer who has a genuine enthusiasm towards what you want to create and in helping you bring that vision to life.
Can we get a Detailed Quote before Beginning?
A professional video production company should be able to let you know what to expect in terms of the cost of your project. Ask for a cost breakdown of services- you may not need all of them for your project, or you may choose to include some but not others.
Budgeting concerns aren't uncommon, so it's important to know what you're getting for what you'll be spending. However, the price shouldn't be a key factor in deciding whether to work with a company. Quality video production isn't cheap, so do be prepared to pay.
Can you show examples of projects you've worked on?
You may have already done some research on your own before reaching out to a company, but it always good to ask to see their portfolio. A skilled and talented company will be proud to show you examples of completed projects and video campaigns that they've created. Ask if they have a project that they're most proud of or one that they really enjoyed working on.
Seeing these examples will give you a better idea of their production style. You may be able to tell right away whether or not they're going to be a great fit for your brand.
Who will be in Charge of My Project?
An experienced video production company will likely have a point person in charge of handling your requests and working with you throughout the project. If you're only being given the main company email or phone number as the primary contact for the project, you're probably not going to be given the level of personal attention that you need.
This also speaks to their level of organization. A company that doesn't have any one person responsible for handling client requests can be an indication of disorganization or disinterest. Your feedback should be highly valued, and a good company should be able to put you in direct contact with someone who can handle your comments, questions, and requests.
Wrap Up
Starting your project off on the right foot requires you to do your homework. Before you choose a video production company to work with, ask these key questions to determine if they're right for you. If you receive satisfactory answers, you can move forward and bring your video marketing vision to life.
Comments
comments