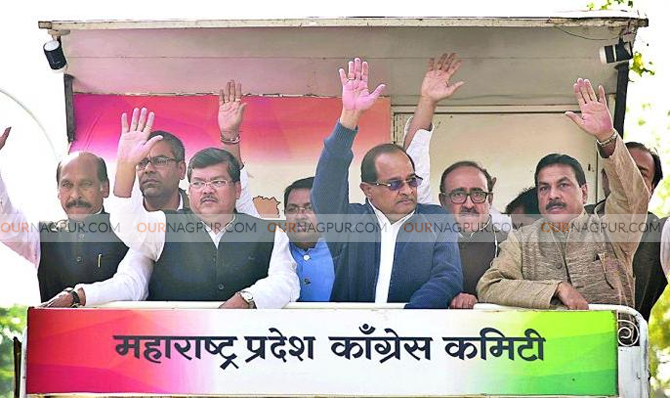 Nagpur: The fifth and last phase of Congress Jan Sangharsh Yatra (rally) organised by the Maharashtra Pradesh Congress Committee (MPCC) was launched on Thursday from city amidst great enthusiasm among the party workers. However, the response was not as expected.
After paying homage to Dr Babasaheb Ambedkar at the famous pilgrim centre Deekshabhoomi, the rally reached the Durgah of Hazrat Baba Tajuddin Aulia in eastern part and finally came to Ganesh Mandir in Sitabuldi and offered prayers.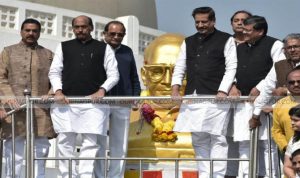 In the absence of MPCC chief and former chief minister Ashok Chavan, who was in Delhi for holding consultations with party high command over seat sharing discussion, former chief minister Prithiviraj Chavan led the rally. Opposition leader in state Assembly, Radhakrishna Vikhe Patil, All India Congress Committee (AICC) general secretary Mukul Wasnik, former MP Vilas Muttemwar, former CC chief Manikrao Thakre, former ministers Nasim Khan, Anees Ahmad,Rajendra Mulak and local leader Vikas Thakre, Vishal Muttemwar, Umakant Agnihotri and Abhijit Wanjari were present on the occasion.
Former Maharashtra chief minister Prithviraj Chavan on Thursday said since the BJP "failed" to bring development, it raked up the Ram temple issue ahead of the Lok Sabha elections, but people will not get misled by such "poll tactics".
Targeting the BJP-led central government over the controversial Rafale jet deal, the senior Congress leader said the issue would not fade and that the "truth will come out". While the Opposition Congress has been alleging corruption in the Rafale fighter jet deal, the government has denied any wrongdoing.
ALSO READ : Buddha Festival 2019 to start from January 23 in Nagpur
Comments
comments