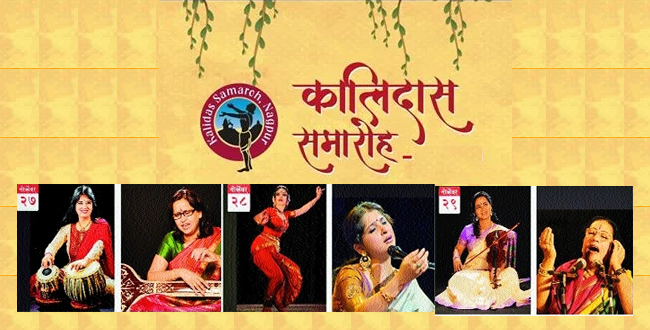 Nagpur : The city's signature cultural event 'Kalidas Mahotsav' will be held this year from November 27 to November 29 at Kavivarya Suresh Bhat Sabhagruha . There will be a bouquet of performances by gifted artistes during the festival, which has the theme 'Shakuntala — Voice of Indian Woman' this time.
Dr Sanjeev Kumar, Additional Commissioner who is holding additional charge as Divisional Commissioner, Nagpur, made the announcement in a press conference held at Divisional Commissionerate here on Thursday. Sudhakar Telang, Deputy Commissioner; Ravindra Thakre, officiating Municipal Commissioner; Ram Joshi, Additional Municipal Commissioner were present prominently on this occasion.
Dr Sanjeev Kumar told that the events during the three-day festival will be held between 6.30 pm and 10 pm everyday.
This year's theme is again inspired by Mahakavi Kalidasa's classic work 'Abhigyan Shakuntalam'. "The theme this year explores the 'Voice of Indian Woman' through the performances of accomplished artistes," said Dr Sanjeev Kumar.
On November 27, there will 'Mangalacharan' performance by noted artist Srimathy Madkholkar and her group at 6 pm. It will be followed by Tabla concert to be presented by Shri Shakti Tal Vadya Vrund group of Anuradha Pal. Accomplished singer 'Vidushi' Aarti Ankalikar Tikekar's vocal performance will draw the curtains on first day performances. Padmashree Devayani's 'Bharatnatyam' performance and noted singer Kaushiki Chakravorty's vocal performance will mark the Day Two of the festival. November 29, the last day, has performances of violinist Sangeeta Shankar and acclaimed singer Begum Parveen Sultana scheduled.
ALSO READ : झिरो माइल नागपूर मॅराथॉन १८ नोव्हेंबरला
Comments
comments