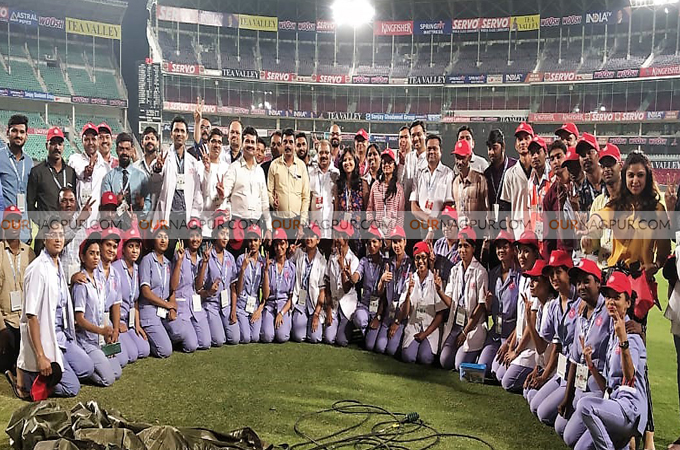 Nagpur : Orange City Hospital & Research Institute added one more feather in its overflowing cap by becoming the official medical service provider for the India- Australia 2nd ODI played recently at VCA, Jamtha, Nagpur. Orange City Hospital & Research Institute's medical & Ambulance services was sought by VCA, Nagpur for providing emergency medical and other related health care services to players and more than 45 thousand spectators for practice session and match day. OCHRI was also the official Medical Service Provider for month long ICC WC T20 at Nagpur in 2016. ICC and BCCI observers had applauded the professional disciplined services of OCHRI conducted under aegis of VCA during the said month long undertaking.
OCHRI Medical Committee consisting of Dr. Anup Marar, Dr. Noorul Ameen and Shri Sunil Sure and VCA Medical Committee Chairman Adv. Dilip Daga assisted by Mr. Irfan Razaq and Mr. Kunal Bhumralkar executed the medical emergency plan successfully for players and spectators in the stadium over and above laid down BCCI medical guidelines. Inside VCA stadium; Two Emergency rooms equipped with monitor, Ventilator, Defibrillator and other paraphernalia apart from 2 Cardiac Ambulances, 2 BLS Ambulances along with comprehensive Medical Team of Intensivists, Physicians, Orthopedicians, Cardiologist, Neurosurgeon, Ophthalmologist, Maxillofacial surgeon, Anesthetist, Diabetologist, Rheumatologist, Medical Officers and Paramedical staff rendered their expert services. These specialists were spread all over the stadium to handle any eventuality. On site emergency medical centers was capable of handling all types of medical emergencies at the venue. There was well equipped Player Medical Centre, Spectator Medical Centre, on field Rapid Response Team, 4 First aid stations and 11 medical booths in specific stands. Dr. Noorul Ameen- Medical Coordinator and Shri. Sunil Sure- Admin Coordinator for this event under the expert guidance of Dr. Anup Marar successfully synchronized the whole project for VCA on behalf of OCHRI.
Dr. Vidya Nair, Director- RNHPL who as First Aid Coordinator of this venture organized and supervised the 4 First Aid stations stated that VCA's intentions to have first aid stations was justified when it was noticed that more than 150 odd spectators availed the benefit. Over and above; medical services of 11 booths were utilized by around 300-400 odd spectators. Timely emergency care to 2 needy spectators and officials and Ambulance transports of needy to hospital by Spectator medical center manned by Dr. Palak Arora was also noted. Earlier OCHRI's ambulances along with medical team also escorted the India and Australia Team from Airport to their respective hotels.
ALSO READ : ब्रॉडगेज मेट्रो प्रकल्पामूळे काटोल-नागपूर अंतर 35 मिनिटात गाठणे शक्य
Comments
comments