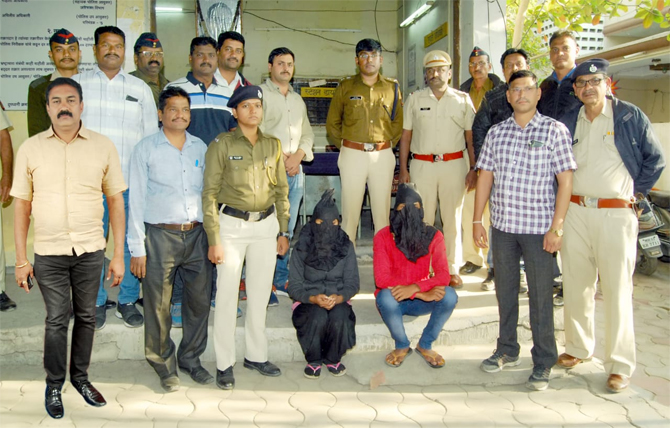 Nagpur: In yet another shocking incident, a woman in Nagpur killed her husband with the help of her lover and tried to portray it as a suicide. The crime branch has arrested the woman's accomplice in the case. Manisha Pankaj Ambhore (30) was married to Pankaj Chandrakant Ambhore, who worked as a supervisor in a private company.
Manisha was reportedly an alcoholic and had an extramarital affair with one Arun Mishra. When her husband came to know about it, Manisha, along with her lover killed him on December 5, 2018, and tried to stage it as a suicide.
She admitted Pankaj in the hospital in an injured condition and told the doctors that he met with an accident. On the other hand, she told the relatives that he fell down a drain. However, she told the police that he committed suicide by stabbing himself on his head. The Police then filed a case of suicide.
After further investigation, the Police filed a case against Manisha for provoking suicide and made an arrest. Meanwhile, Pankaj's parents demanded to file murder charges against both Manisha and her lover and requested Police Commisioner Dr Bhushankumar Upadhyay for the same. Later Upadhyay gave the case to the crime branch.
What came out during the investigation was shocking – Pankaj met Manisha and Arun to convince them to end their illicit relationship. But both of them instead attacked Pankaj with a heavy stone and hit his head hard.
Under the guidance of deputy commissioner Sambhaji Kadam, inspector Jagvinder Singh Rajput and assistant inspector Chaudhary investigated the matter further and arrested the accused after the medical officers reported Pankaj's death was due to stone injuries.
"After a check on Arun and Manisha's call records, it was likely that were involved in the murder. We arrested them on the basis of this," said Kadam.
ALSO READ : High profile sex racket busted at hotel Radisson Blu
Comments
comments