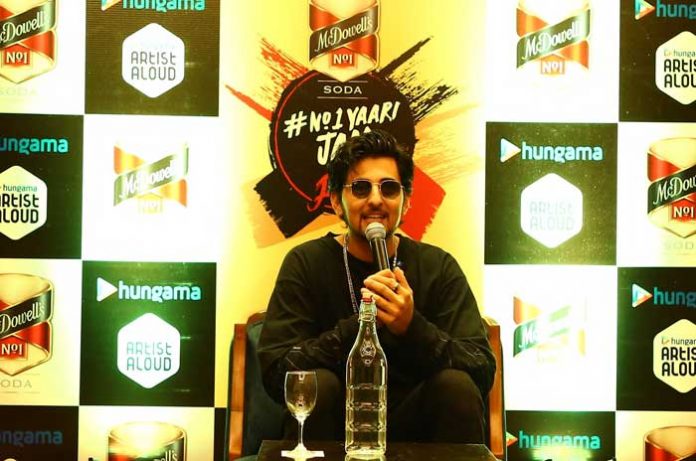 Nagpur, 2019: McDowell's No.1 Soda, in association with Hungama and Hungama Artist Aloud, brought the singing sensations Guru Randhawa and Darshan Raval to Nagpur for a day filled with music. Setting a celebratory mood post the festivities, the artists performed for the No.1 Yaari Jam Fest at Manakpur Indore Stadium, Nagpur as part of the 6-city tour across Maharashtra and Madhya Pradesh. After entertaining the fans in Indore, Pune Nasik and Nagpur the No.1 Yaari Jam Fest will now end the tour with a bang on 14th December in Solapur.
Known for their foot-tapping tracks, Darshan got millennials singing and dancing with popular numbers like 'Chogada Tara', 'Yaara Teri Yaari' and his original 'Yaari Ka Circle'. Guru took concert-goers through his iconic hits 'Tenu Suit Suit', 'High Rated Gabru', 'Ban Ja Rani' which got the entire crowd singing.
McDowell's No.1 Soda is synonymous with celebrating the bonds of brotherhood and has been an enabler of friendships through its intriguing and captivating storytelling amongst masses in India. The No.1 Yaari Jam Fest Powered by Hungama and Hungama Artist Aloud, is an experiential platform that is conceptualized to get the audience and their Yaars to experience the power of music that brings them together every time.
The No.1 Yaari Jam fests this year will feature artists and bands opening the concerts. These artists/ bands who were selected through the enabler platform of McDowell's No.1 Soda called No.1 Yaari Jam Pads, followed by the final performances by the headlining artists.
The evening saw Bollywood, folk, fusion band- Alaap and the Band open the fest and enthrall the fans with their music.
Speaking on the concept of the No.1 Yaari Jam; Amarpreet Singh Anand Executive Vice President and Portfolio Head – Marketing, Diageo India said, "Music is a universal language, capable of bridging cultural barriers. We believe that where words stop music begins and so music lets us open in the truest sense, allowing us to have deep conversations we wouldn't be able to otherwise. Through the No.1 Yaari Jam Fests, we want our consumers to experience and inspire them to bond with their "Yaars" over the music."
Speaking on the concept of the No.1 Yaari Jam, Guru Randhawa said, "Friendship has been my anchor in this industry since my debut. Over the years, I feel more and more fortunate to have connected with friends who have kept me grounded. Through my journey, music enabled me to make new relationships that have brought me to where I am today."
"Music is one of the few things that can touch hearts across the world, often bridging cultural barriers. I live I have always experienced that Music is a medium that not only brings people together but also helps forge new relationships that last a lifetime like our Yaari. It was great to perform in Nagpur and the crowd was just magical", said singer Darshan Raval.
Siddhartha Roy, COO, Hungama Digital Media said, "Consumers today are seeking musical experiences that go beyond the digital space and we have actively worked towards creating online and offline properties that help us give a memorable and enriching experience to our users. We are glad to partner with McDowell's No. 1 Soda to create an engaging experience for music lovers across the nation. With No. 1 Yaari Jam Fests we'll be able to extend our brand promise to live on-ground festivals that will offer the audience to watch their favorite artists in a high-octane environment on some of the biggest stages seen in the country."
Soumini Sridhara Paul, Vice-President, Artist Aloud, Hungama Digital Media said, "Independent music has caught the attention of music lovers globally. In India too, there is a surge in demand for original and independent content. We are glad to work with some of the most talented artists in the industry to offer an unforgettable experience to music lovers across the nation. At the same time, No. 1 Yaari Jam Fests will also give an opportunity to select independent artists to perform with renowned musicians and share their talent with the world."
Comments
comments