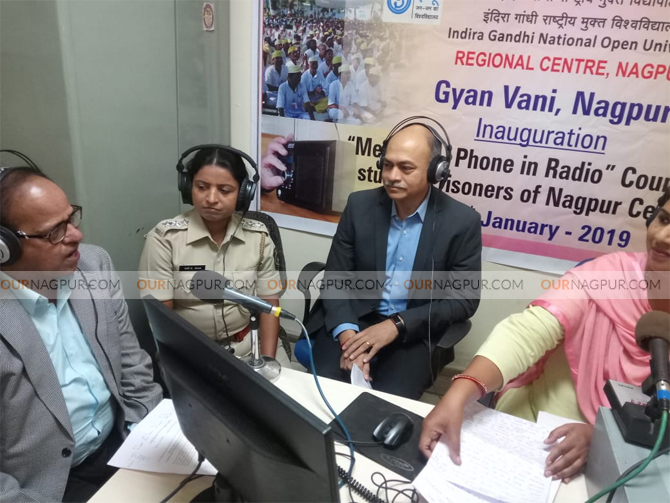 Nagpur : Prisoners Education is a Universally accepted Principle to bring change in their behavior and make them academically strong, which aims at helping them to stand on their feet after their release from jail. Across the Globe, several initiatives are made in this direction.
In India also, Indira Gandhi National Open University (IGNOU) has opened Special Study Centres for prisoners in jails. As a positive gesture, IGNOU has extended Free Education for Prisoners since 2010. The Self Instructional Study Material is provided to the Students. IGNOU follows Multiple Media Instruction Methodology to its students. As part of it, "Phone in Radio Counselling" Sessions are conducted for Students.
The students listen to the Radio Classes from their own places and will call the Gyan vani Studio to talk to the Teachers in the Studio and clarify their doubts or eek further clarification in the Lesson. But this Call back facility is not available for Jail Students, as they do not have access to Phones in Jail.
Even though prison radio is available in some Developed Countries, either they are managed by prisoners only and at some places "Community Radio" within the Jail premises. But No reports available about any Phone in facility available for the Prisoners, any where in the World. To circumvent this difficulty and with an Aim to provide this "Inclusive" Educational Facility to the Student Prisoners, without compromising the Jail Security issues, an Innovative and Creative Method is adopted by IGNOU Nagpur Regional Centre at Gyan Vani Nagpur.
The teacher in Studio will talk and the Student Prisoners will be provided FM Radio and they keep listening the Lesson. If they get a doubt or cannot understand a Topic, they write their doubt/point on a Paper and give it to IGNOU Jail Coordinator. Then the Jail Coordinator immediately comes to Jail Office and calls from the Office Phone to the Gyan Vani Studio and reads the doubt/point of Clarification needed by the Student Prisoners.
Then the Teacher clarifies the doubt/explains the point asked. The Student prisoners in the Jail continue to listen the Question and the Answer provided by the Teacher. In this way, the Educational Experience available to Civil Students is also made available to Prison Students also through this "MEDIATED-PHONE IN RADIO COUNSELLING" Sessions. Thus the Prisoners are also provided Equal Opportunity with Civil Students and is an example of "Inclusive Education".
The Programme is inaugurated today by Shri Yogesh Desai, DIG, Prisons, Nagpur. In his speech he said that the Prisons Department focuses on Reformation and Rehabilitation and this is an excellent opportunity provided by IGNOU. Dr. P. Sivaswaroop, Regional Director, IGNOU Nagpur Regional Centre explained the background of this initiative and said that it will be on weekly basis and will be extended to other programs also. Smt Rani Bhonsle, Jail Superintendent, Nagpur Central Jail proposed a Vote of Thanks.
The Inaugural Session the Mediated Phone in Program, was followed by Academic Phone in Counselling by Dr. Shyam Koreti, IGNOU Academic Counsellor on the foundation course in Humanities and Social Sciences for BA-I year students. 6 Phone calls are received from the Jail.
Read More : Prisoners in Nagpur to take radio route to excel in education
Comments
comments