Gift shopping can be hard. No matter if you're shopping for a sibling, a longtime spouse, or a co-worker, the act of picking out the perfect gift can be overwhelming. What does she want? What doesn't she already own? What color would she want it in? Is she allergic to anything? Does she like to read? What is her favorite scent? So many questions, so little time to buy.
To lessen your gift shopping stress this year, we've come up with a list of 30 awesome gifts for all the different types of women in your life. From the home chef to the traveler to the one you don't know that well, we have you covered. Here are my picks for 2018's best gifts for her.
1. For home chef: Pasta pot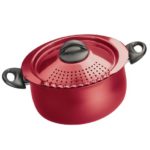 Credit: Amazon
This pasta pot will be loved by all – especially the home chef. If she loves cooking, she will love the design and ease that comes with this pasta pot.
2. For the coffee lover: Keurig K575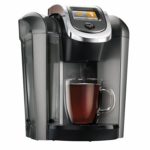 Credit: Amazon
Even if she already has a Keurig, the latest Keurig K575 will be her best upgrade of 2016. It brews a wide variety of coffee types,
3. For the fitness Fantic: Fitbit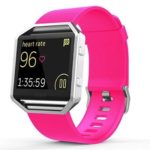 Credit: Fitbit
Whether she runs, does yoga, takes barre class, or spins, if she's active, she will love the latest Fitbit. Synced to her phone, she can track steps and calories burned, and this special edition gold and black band is stylish enough to go with every outfit!
4. For the new dog owner: Petcube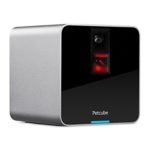 Credit: Amazon
With Petcube, she'll be able to watch, talk to, and hear her pet when not home. Not only will you be gifting her with a physical item, but you'll be giving her so much less stress when she's away from home and wondering if her dog is destroying the couch.
5. For one who is traveling on a short work trip: Weekend handbag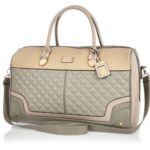 Credit: SoleSociety
A weekend bag is a great idea for anyone. Whether she's spending a night at a friends or traveling on a short work trip, a large bag can come in handy when she doesn't need a suitcase, but can't fit her belongings in a handbag.
6. For the one you're nervous about shopping for: Sephora Favorites Perfume Sampler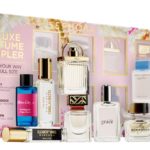 Credit: Sephora
So she likes nice things, but you have no idea what she considers "nice?" Sephora's perfume sampler is here to help. With it, she'll receive a bunch of sample sized designer perfumes, and the best part: She'll get a voucher she can redeem for a full-size bottle of whichever perfume sample she likes best.
7. For the homebody: UGG Dakota Slippers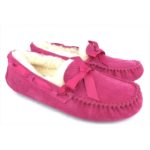 Credit: Nordstrom
The Dakota slipper has been around for years, combining fashion and comfort into one. You can even wear the shoe outside, as it has a rubber sole. Speaking from experience, you can't go wrong with UGG slippers as a gift. In the past six years, I have given a different pair of UGG slippers to my mom, grandmother, grandfather, fiancé, and brothers – and each time, they were a hit.
8. For the new mom: Mom Life: A Snarky Adult Coloring Book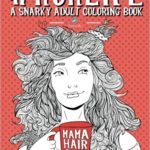 Credit: Amazon
Sometimes, she just needs a good laugh – and something to unwind with after her baby finally falls asleep. Everyone loves adult coloring books, and this themed book would be a breath of fresh air to any new parent.
9. For the nostalgic one: Fujifilm's INSTAX
Credit: Amazon
Instant film cameras and photos are cool again. If she loves memories, throwbacks, and pictures (and who doesn't?!), Fujifilm's INSTAX is the perfect gift. For the teen, the college student, the new mom, and even the grandma, this is a fun toy for all ages.
10. For the health nut: Skinnytaste Fast and Slow Cookbook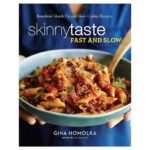 Credit: Amazon
Whether she's watching her figure or eating only whole foods, Gina Homolka's latest cookbook features easy-to-make, family friendly recipes that are healthy and full of flavor. As one of SkinnyTaste's biggest fans, I can tell you first hand that no one will be disappointed with any of Gina's recipes.
11. For the one who is always travelling: smart luggage suitcase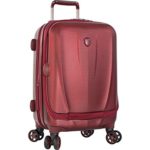 Credit: Amazon
Whether she enjoys exploring new countries or can't live without a few tropical vacations each year, smart luggage is honestly the new black. Not only is it super cute, but the suitcase has external USB ports so she can charge her devices on the go! Oh, and if you're not convinced, Oprah named the Raden to her list of favorite things this year.
12. For the book lover: Kindle Oasis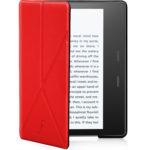 Credit: Amazon
The book lover may already have a Kindle, but who doesn't enjoy the latest and greatest technology the world has to offer? The Oasis is the thinnest and lightest Kindle ever made, and she'll love being able to effortlessly turn each page.
13. For the one always losing their keys:  A key finder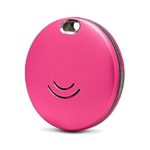 Credit: HButler
Is she always losing her keys? If so, a key finder would be much appreciated. It even comes in rose gold!
14. For the wine lover: Igloo Wine Cooler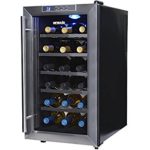 Credit: Amazon
Who wouldn't want a wine cooler? And this Igloo fridge is the best of the best. What would score you even more points? Getting a few bottle of wines to go in it!
15. For the music lover: Amazon's Echo Dot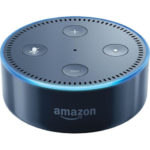 Credit: Amazon
The Echo is all the rage right now, and the 2nd generation Echo Dot is adorable and affordable. If she loves music, this device is the perfect way to play her favorite tunes through the whole house. Even if she's not a music buff, the Alexa-enabled gadget lets you control lights, garage doors, and more with your voice. It's perfect for smart tech lovers – and the laziest people you know!
16. For the runner: Powerbeats3 Wireless In-Ear Headphones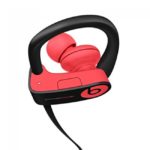 Credit: Beats
The latest wireless in-ear headphones from Beats were made for runners. We awarded them the best wireless earbuds of 2016, and she will definitely love them just as much as us – if not more.
17. For the one who is getting married: 'Celebrate!' Champagne Flutes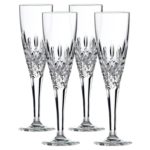 Credit: Nordstrom
If she recently got engaged, married, or could possibly be celebrating a major life event in the near future, she will go nuts over these champagne flutes. They're adorable to have stored in the kitchen for dinner parties, girls' nights, and celebrations with loved ones. Not to mention, they would make for a great picture.
18. For the cheese connoisseur: Scottie Cheese Board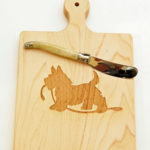 If she loves cheese, and she loves dogs, this cheese board was actually made for her in a factory far, far away. Whether she's a new homeowner, a seasoned dinner party host, or a cheese snob, she is bound to love this adorable kitchenware from Anthropologie, one of the best places to find fun, cute gifts!
19. For the homeowner : smart thermostat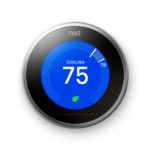 Credit: Nest
With this smart thermostat, she can save time, energy, and money. It will learn the temperatures she likes and let her control the thermostat from her phone. Any homeowner would love this gift.
20. For the armature photographer : Nikon camera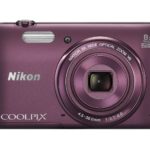 Credit: Reviewed.com/Kyle Looney
If she loves taking pictures with her phone and is interested in photography, consider getting her this Nikon camera. We awarded it the best beginner DSLR for 2018 – and as a gift, it will award you best gift giver of 2018.
21. For the one who likes to stand out: Kat Von D Lipstick Set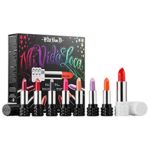 Credit: Sephora
If she's into makeup, you can't go wrong with a lipstick set. And Kat Von D's funky lipstick shades are perfect for the lady who likes to see and be seen.
22. For the planner: 2018 Appointment Calendar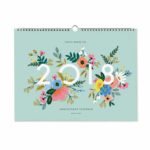 Credit: RiflePaperCo
If she's into cute office supplies and staying organized, she's going to need a new calendar for 2018. Rifle Paper Co.'s calendars are super cute and perfect for any woman who likes 'pretty things.'
23. For the cat lady: Cat Pot Holders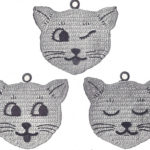 Credit: Anthropologie
Okay, how cute are these?! If she is a cat person, she will most definitely love pot holders with cats on them. Every kitchen needs pot holders, so you can't go wrong with these.
24. For anyone: A branded beanie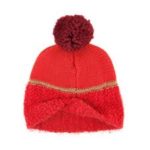 Credit: Nordstrom
If you're not familiar with Canada Goose, the trendy winter coats .If she has been begging for one, but you don't want to drop the money on one, get her a branded beanie instead. She'll LOVE it.
25. For the one who is always busy: Productivity Planner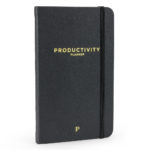 Credit: Amazon
The productivity planner is both hilarious and necessary for the woman in your life who is always busy and stressed. Each day, it has you rank all of the tasks you have to get done today – and at the end, has you rate your productivity. It really is both a funny and, well, productive gift.
26. For the home entertainer: Capri Blue Candle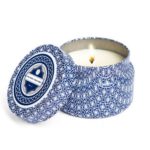 Credit: Anthropologie
If she loves home décor and entertaining guests, you can never go wrong with a candle as a gift. And Capri Blue's candles are by far some of the best smelling – and best packaged – candles around. If you want to get more than just a candle, Capri Blue's reed diffuser is another winner. This thing has honestly saved my bathroom from unpleasant smells, and I recommend it.
27. For the one who has everything: Dyson Supersonic Hair Dryer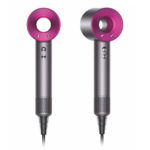 Credit: Dyson
Dyson – yes, the vacuum company – came out with their first-ever hair dryer in 2016. The pricey blow dryer works faster than regular ones, has a cool design, and will not damage hair. If she likes the finer things in life, and seems like she has already has them all, consider giving the gift of the Dyson Supersonic this year. I tried it myself and approve. Check out my review here.
28. For the entrepreneur: In The Company Of Women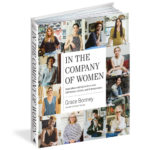 Credit: Amazon
If she is a powerful woman – and who am I kidding, we are all powerful women – she will love Grace Bonney's book of inspiration and advice from 100 female makers, artists, and entrepreneurs.
29. For the free spirit: Dogeared Necklace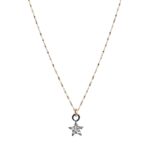 Credit: Nordstrom
If you gift her with Dogeared this year, you won't just be giving her jewelry. Dogeared jewelry is themed and can bring her strength, faith, and good vibes only. This popular Dogeared necklace supposedly comes with good karma, and who doesn't want to start the new year with some positivity?!
30. For the one you don't really know: Philosophy Gift Set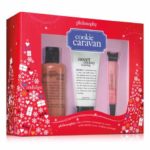 Credit: Nordstrom
You can never go wrong with gift sets of body lotions, shampoos, shower gels, and lip gloss. It's basically the go-to gift for women of all ages that you have literally idea what to buy. Philosophy's march of the sweet treats three-piece set (available exclusively at Nordstrom) is holiday themed. No matter who she is, she'll most likely use it. Oh, and it smells fabulous.
Also read: Best gifting ideas for wedding
Comments
comments